Why joining ARC feels so right
A new chapter in Q42's great book of adventures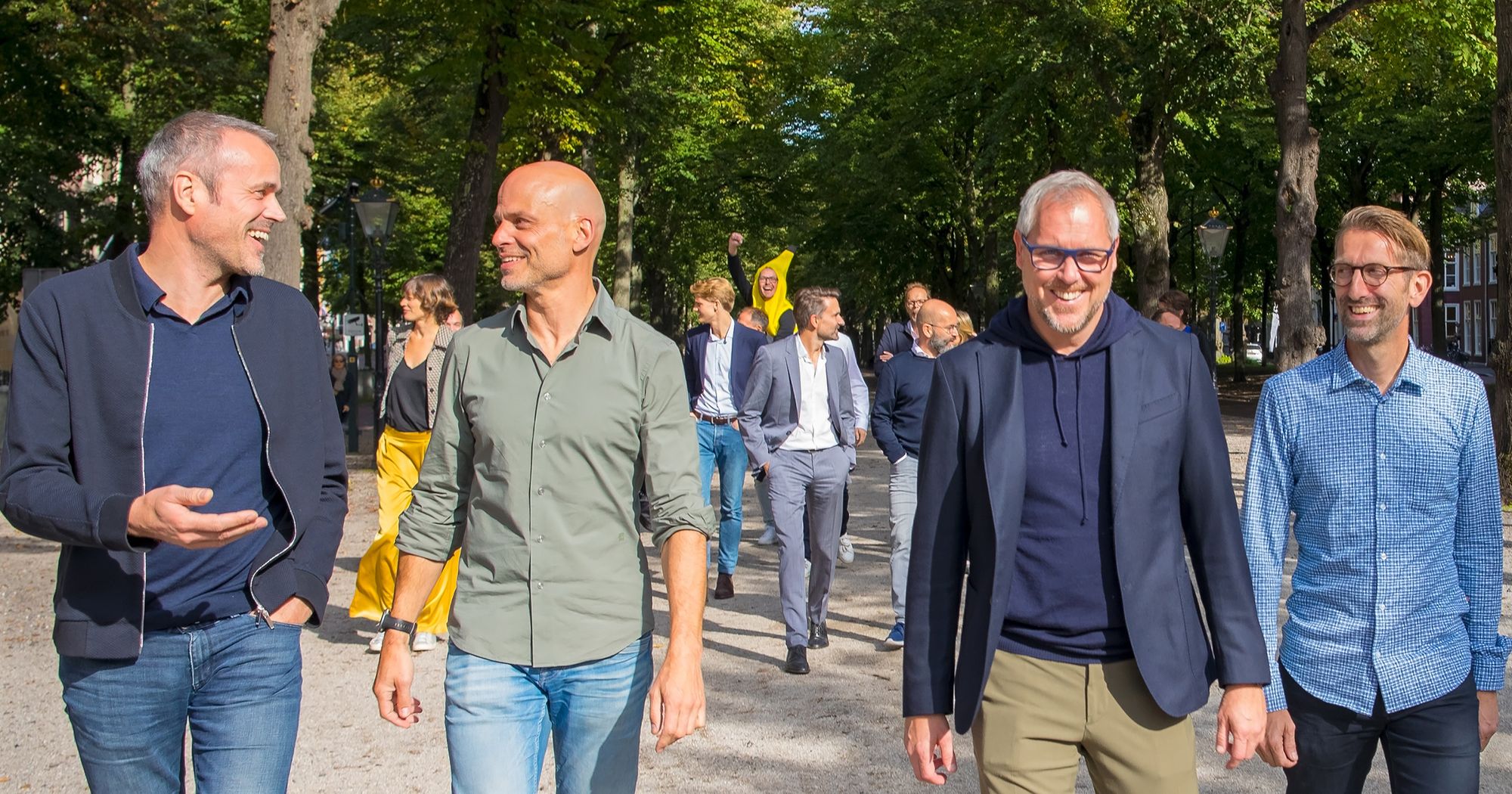 Seventeen and a half years ago, I received an email from my fellow student and good friend, Lukas:

"Chris, do you know someone who's looking for a side job or a traineeship? I've been with Q42 for a few weeks now. Small internet agency in The Hague. Six great, super smart nerds. They're looking for colleagues. See you, Luuk."

My cursor was already hovering over the send button, having written that I couldn't think of anyone. But I didn't click it, realising that the coming period would be rather quiet for me.

backspace backspace backspace backspace… "Yes, me!"

That same day, I was invited to swing by. In the tram I briefly wondered whether I should have worn something more formal. Luckily, it didn't appear to be necessary. The rest of the afternoon I chatted with founder Kars about The Hitchhiker's Guide to the Galaxy, about the impressive things created by Q42 and also, albeit shortly, about my own attempts in programming. This must have been sufficient, as they allowed me to start the next day.

It was the start of an adventure that would change my life. I fell head over heels in love with Q; it felt as if I had ended up in a place where the internet was being re-invented. (Sometimes quite literally, as when colleague Sjoerd accidentally made HTML5 possible.) Anything seemed to be possible here.

Over the years, a lot has changed. Many of my colleagues from those early days are still around. Many more have joined us. Just like then, we turn projects into little innovative gems. But now we also do this on a larger scale, and with higher impact.

What has always remained the same, however, is our core values. And that's what makes me thrive here. Everything we do is deeply rooted in honesty, in humanity, in passion for technology, in wanting to do the right thing, and the desire to make people's lives smarter, better and more fun.

Q is not just another workplace for me. It would be a cliché to state that we are a group of friends, but it is no exaggeration to say that many of the Q-ers are among my best friends. Q is my second home. When, in 2010, I was given the opportunity to buy in, it didn't take me long to decide. I had always experienced a great sense of ownership, and to be able to say that I have been a co-owner of Q for the last 12 years makes me very proud. It makes me proud of what we have achieved during those years. And of who we are. Of our autonomy. Of our determination. Of our own unique identity.

So, why on earth would we decide to join ARC?

Well, I didn't see this coming a year ago, to be honest. A lot of consolidation has taken place within the market in recent years, so we have often been approached by various parties. While we were always open to discuss it, we would invariably walk away with a sense of satisfaction about our own independence.

And then ARC came. It felt different from the start. We talked to Mattias Olofsson, the CEO of ARC - or the Swedish Stef. ;) Whereas other parties mainly seemed to be interested in money and growth, Mattias talked about ambition and impact. It is true that ARC uses more models and systems than the sometimes unstructured Q, but the bottom line is we appear to have the same core values: honesty, humanity, passion, doing the right thing, and making people's lives smarter, better, and more fun. We thought, "Holy moly, what great like-minded folk, and how much we can learn from them!"

We reserved a lot of time to investigate this opportunity. We were not exactly looking for this sort of partnership, so we were not in a hurry. Over the past six months, we had gotten to know each other very well. The strong chemistry was obvious from the start. The Dutch and Swedish culture match very well and ARC-ers are extremely sociable people!

Gradually, an image developed in my mind – and please forgive this nerdy reference – but to me it feels like we are Spider-man, just having been recruited by the Avengers. Spider-man is a genuinely cool superhero and does great things in New York. But together with the Avengers his impact is even greater, at an even larger scale. They reinforce each other without losing their own identity. Spider-man will be Spider-man. Q42 will be Q42.

That is what it feels like for us. ARC is not a large company that swallows smaller ones, it is a group of companies, each with their own identity. My 10-year-old son tells me I should call it an alliance. And the companies in that alliance are very cool. Look at the hardware-heroes from Above and the tremendously great things they create. Hardware is to them what software is to us. We are very much looking forward to making beautiful things with them.

Or take a look at Umain, which appears to be something like the Swedish Q42. When Wayne from Umain - he can't help giggling as he introduces himself – first told us about his company, I thought he was joking. He mentioned several things that we also say about ourselves in pitches, almost word-for-word. I sincerely thought that he was reading the Q-website aloud. But apparently, we have Swedish soulmates.

Or look at the bold brand designers of Kurppa Hosk, or the packaging designers of Goods, who think outside the box (pun intended), and so on. Each ARC company is just as cool as the next, and they manage to complement and strengthen  each other extremely well. For example by using their individual skills to help each other. Curamando and Cupole, for instance, do management consulting, and they also use this expertise to help their sister companies improve themselves. Because helping each other is at the core of ARC, with the aim of making a positive impact together.

Perhaps the most important argument is that this guarantees the continuity of Q. Stef, Jasper and I are far from done with Q, on the contrary, but we don't have eternal life. Transferring Q's leadership internally is not the problem. There are plenty of very talented Q-ers that could do the job. However, ownership has become increasingly difficult to transfer. What's so special about ARC is that they have a model for onboarding new leadership talent, which includes giving them ownership. A nice proof of the people-focussed approach and core values at ARC, and proof of the fact that this is the best possible home for Q.

This is the start of ARC Nederland, that we will build up further, together with ARC. And together with Fabrique, the design agency that we have been 'dating' for as long as I have been working at Q, but somehow we never 'married'. Although it had always been on both of our minds. We achieved our greatest successes together. We have been strengthening each other for some 20 years, so isn't it only logical to start this new adventure together? It feels really great to finally properly belong to each other.

And that is what it comes down to: it feels right. I think this is the next chapter of Q42's great book of adventures, and we have just found the turbo-button. I am so looking forward to it!
---
Do you want to know more about ARC and our new adventure, feel free to send me a message: chris@q42.nl.