Border Sessions wrap up
Border Sessions is a technology conference which aims to kickstart ideas and experiments in a multidisciplinary setting. And well, we had a few ideas…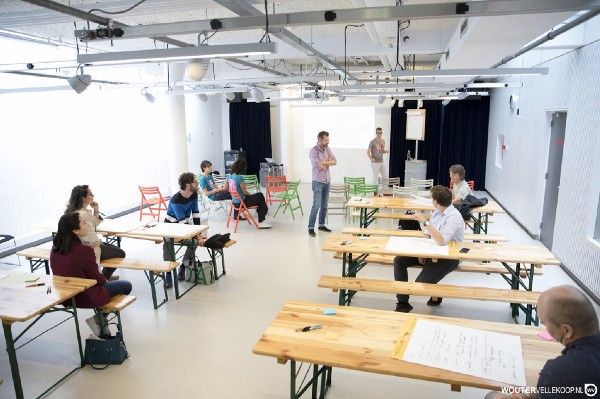 Since we're still buzzing from the Border Sessions 2017, we want to share the things we did there. Border Sessions is a technology conference which aims to kickstart ideas and experiments in a multidisciplinary setting. And well, we had a few ideas…
Workshop autonomous vehicles
Taco and Thijs gave a workshop about autonomous vehicles (AVs). Ten people attended, who each worked out a few ideas. From those ideas two were chosen to be elaborated by two teams.
Team one: a UAV to explore extraterrestrial lifeforms
Team two: a research drone
The UAV to explore extraterrestrial lifeforms had to be not one vehicle, but multiple, in the form of a swarm. That swarm of drones would eventually fly through space and map everything it stumbled upon. A kind of Google Street View for space. Of course, team one had the possible outcome in mind that the swarm would eventually discover some extraterrestrial life or perhaps a habitable planet.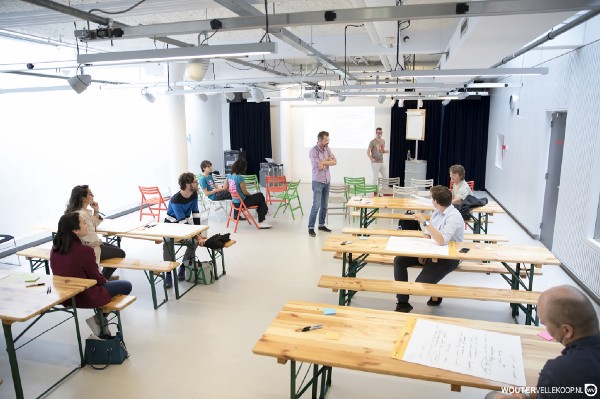 Although the initial idea of the research drone team was a bit vague, team two pivoted to a more concrete idea. They wanted to start a business that would help drone builders with their legal liability and security. In some countries laws have already been adopted which state that AV manufacturers are liable for damage resulting from accidents. Team two would help them make their UAV bulletproof in terms of security, hackability and crashability.
The two teams pitched their detailed ideas with the Elon Musk philosophy: name the enemy, "why now?", show the promised land, identify obstacles, present evidence and pitch. Team two had pitched the most awesome idea and won the workshop. Their prize? A drone which they got to fly by themselves ;-)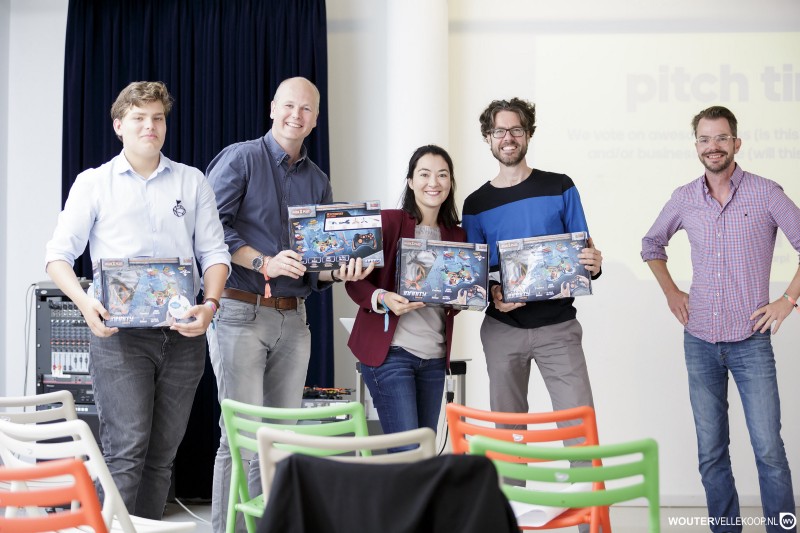 Talk Humanity Hub
The Hague Humanity Hub, a collaboration between The City of The Hague and HumanityX, launched a program to stimulate innovative projects in the field of peace, justice and humanitarian affairs. Once pitched, Successful applicants can acquire €50.000 for their innovative ideas. Hack the Planet pitched their 'Meet the Soldier' project and got funded.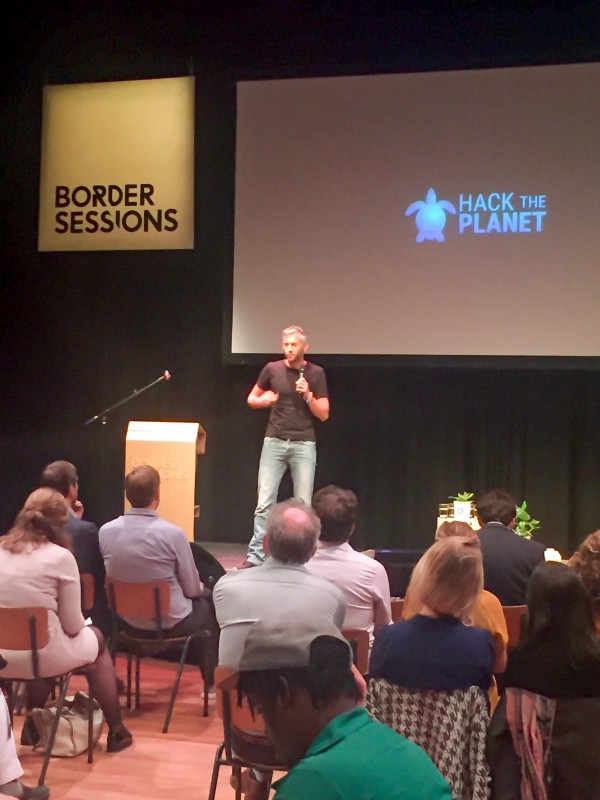 For this pitch, our own Tim got on stage and explained the concept behind Meet the Soldier as well as his vision on how it should be realised.
Meet the Soldier is about a connection between two rival tribes from Uganda: Tepeth and Matheniko. Hack the Planet is going to interview a soldier from both tribes. Each soldier is asked about their story and motivation of their engagement. Once interviewed the rival soldier gets to see the interview in Virtual Reality as if they were sitting in front of each other.
The interview is set up in such a way that external people, the audience, can join and experience the whole as if it were a dialog between the two tribes. In reality the two soldiers never meet. In cooperation with Wolfstreet, a creative agency, the story gets a lot of modern edits: the background of the soldier changes as the context of their story changes and information about the conflict will appear like in Minority Report. Meet the Soldier's goal is to let us see that in conflicts real people are involved, who probably aren't that different from each other.
Hackathon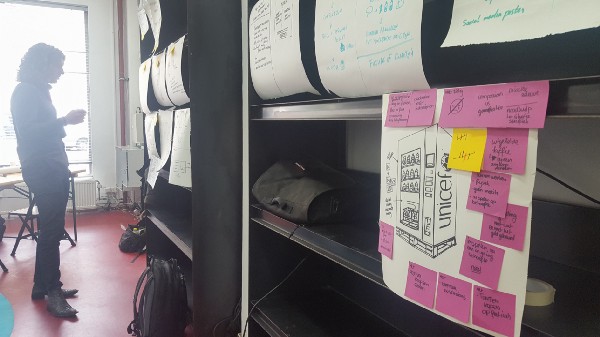 Hack the Planet organised a three day hackathon. War Child, Unicef, World Food Programme and Oxfam Novib were asked to present their current biggest challenges. Four teams of developers, designers, engineers, visionaries, entrepreneurs, strategists and artists bend their heads over those challenges.
Day one was about getting the teams acquainted with each other and familiarized with the challenges. The real hackathon started on the second day. The teams worked very hard and came up with ideas which surprised us a lot! Some were quite innovative!!! On the third day four ideas were presented in front of the Border Sessions public who also where the jury. Voting was made possible by our LessonUp tool.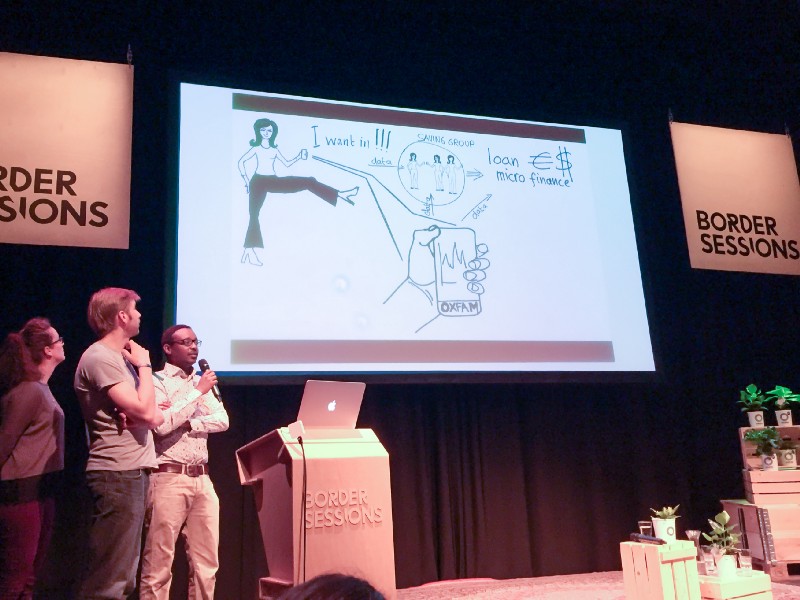 Team War Child won! War Child's challenge was as follows: "how to engage the new generation?". The winning idea consisted of a "beach ball" which was equipped with a camera and also a device to make donations with. The "beach ball" could be thrown into a festival audience who could catch, interact and eventually make donations with it. Congratulations team War Child!