Introducing quplo, our interactive prototyping tool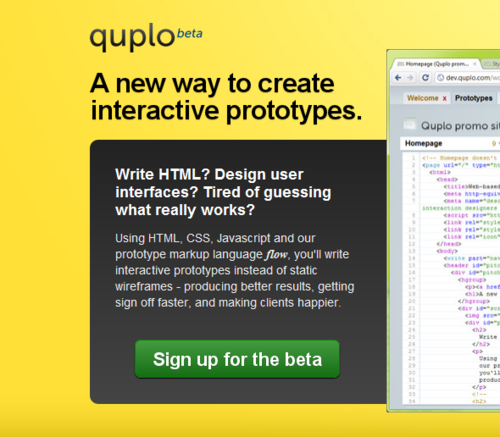 Having been in the web development industry for 10 years, we felt something was missing in the process of wireframing, sketching, designing and developing a website. That something is quplo.
Quplo is an online platform that helps designers and developers create interactive and functional website prototypes using native web technologies HTML, CSS and Javascript.
Prototypes written in quplo are instantly available on the net and allow collaboration between clients, designers and developers. Changes can be applied quickly, and results are geared towards showing what really works as opposed to how it would look in an ideal world such as Photoshop.
Quplo doesn't try to compete with existing tools such as Balsamic Mockups but rather complements them. The quplo website clearly explains what it does and who it's for, and as it's out of private beta now, signup is available to all those interested: