Philips In Touch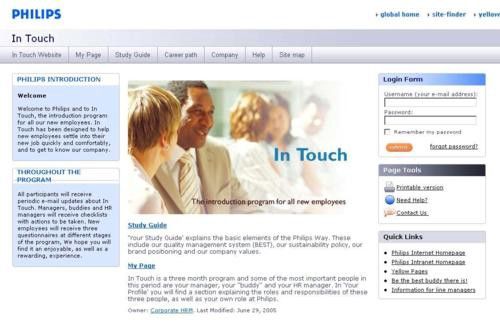 Philips In Touch is the introduction program for all new employees. In Touch has been designed together with Q42 to help new employees settle into their new job quickly and comfortably, and to get to know the Philips company.
Throughout the program, all participants will receive periodic e-mail updates and reminders about In Touch. Managers, buddies and HR managers will receive checklists with actions to be taken, which can be performed at personal dashboards on the In Touch website. New employees will receive questionnaires at different stages of the program, to evaluate their introduction experience and help Philips improve whereever possible.
Q42 has gone to quite some extent in order to make integration with existing new-hire systems as easy as possible. New employees in North America are entered in an HR-database using PeopleSoft, which automatically exports their information to In Touch through a secured connection. This export will automatically start the In Touch programs for these new hires, and their managers will receive email reminders in time to be able to make arrangements. Also, In Touch is able to retrieve user information from Philips' internal Diamond user directory, to ensure correct user information at all time.
In Touch is being used by Philips worldwide, and with an overall evaluation score of 7.5 out of 10 it has proven to be a valuable strategic asset that is beneficial to the entire company.