Steam Early Access: Intergalactic Road Warriors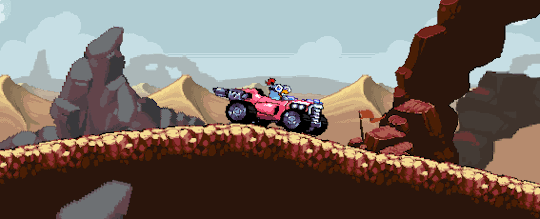 Good news travels fast between the galaxies. Especially when it's brought by Cluck in his little racecar. Intergalactic Road Warriors is available on Steam Early Access right now! Go get it so TurtleBlaze can keep on developing the game. Free updates for life included.
In Intergalactic Road Warriors you enter the Intergalactic Grand Prix, a massive racing tournament that takes you to all the corners of the known universe. It's a side scrolling speed racer combined with the chaos of a Metal Slug game.
Characters with character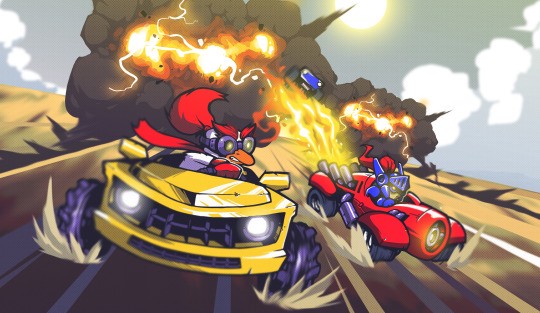 So who's this Cluck, bringer of good news? Cluck is a chicken. Actually, he's a rooster, but we call him chicken. Fun fact: this isn't the first game he takes the spotlight in. Benjamin and Richard wanted to build a side scrolling race game, so Richard started building a prototype and needed a character to drive the car. Cluck, the main character of one of his previous games, DuckSoup Dungeon, was still sitting on his desktop. Long story short: he used and kept Cluck. During Early Access, you can already ride with this little chicken. And good news! More characters with character are coming! Such as Juoi, the main character of Benjamin's Ludum Dare game jam entry from back in 2014.
What happened until now?
[youtube https://www.youtube.com/watch?v=oZkPX3dZmbQ?feature=oembed&enablejsapi=1&origin=https://safe.txmblr.com&wmode=opaque&w=540&h=304]
Benjamin and Richard started out by building a prototype in just three days last fall. It was so well received at the office that they started development on the full game. 2016 started with a blast when the game was Greenlit just before Christmas. Watch Turtleblaze's latest devlog above and if you want to see what happened over the last three months you can take a look at their YouTube channel where they keep all their devlogs.
As of now the game is playable on two racetracks with up to four players. You can make your friends' lives miserable by using special power-ups during the race.
Help with the development
During Early Access you don't just get the game with all future updates free of charge, it's also your chance to take a look inside the garage and help develop the game further. On the community hub you can join the discussion, give feedback and follow updates! Planned future features include: a tense singleplayer story, unlimited car customization, local / online Multiplayer, galaxinous worlds to race on and even more crazy dangerous powerups.
And now it's time to give Benjamin and Richard some love. Play the Early Access version of the game and help them create the best side-scrolling combat racer ever. Ready, set, go!