Searching for an overview of all nerdy anniversaries and geeky holidays during the year? Don't look any further. The ultimate nerd calendar by Dutch strategic technology agency Q42 contains the most important dates in a programmer's life. Just put them in your agenda or import the events directly into your Google Calendar and you'll never miss a chance to celebrate your geekiness again!
From Towel Day to Evoloterra, the ultimate nerd calendar by Q42 consists of different dates:
funny geek holidays
dates that celebrate the work of programmers
(international) commemorations of technological accomplishments
important moments in science, computer and internet history
celestial events like solar and lunar eclipses
All holidays and anniversaries in our nerd calendar are provided with additional information and a link for further read. You can either copy seperate dates to your Google Calendar or you can just import all events to your own calendar to get notifications of upcoming celebrations. We'll keep all events in this calendar up to date!
Check out our ultimate nerd calendar at https://calendar.google.com/calendar/embed?src=q42.nl_lu1vjub2fqi1bka6o7027c5cf4%40group.calendar.google.com
You can easily add it to your own Google Calendar by clicking on the button: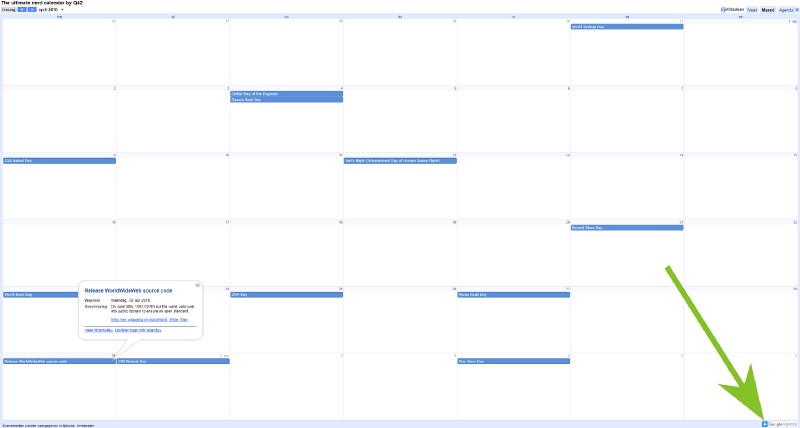 You can also get the iCal file here: https://calendar.google.com/calendar/ical/q42.nl_lu1vjub2fqi1bka6o7027c5cf4%40group.calendar.google.com/public/basic.ics
Our calendar is by no means comprehensive and will be expanded further. If you think we've missed an important geek holiday that deserves a mention, let us know via Twitter.
About Q42
Q42 is a strategic technology agency from the Netherlands. Or as we like to say: we're 80 nerds who like to make things with impact. Things that make people smile. Check out our projects at q42.com/work as well as our Engineering Blog.